20 mai 2012
7
20
/

05
/

mai
/

2012
10:44

ROYAL MONACO WEB MAGAZINE
IL PRIMO WEB MAGAZINE AL MONDO DI MONACO DIVENUTO CARTACEO. UNA CONTROTENDENZA CHE FA PROSELITI.
MAI BLOG RANK 75
Jubilee Lunch and Dinner for Sovereigns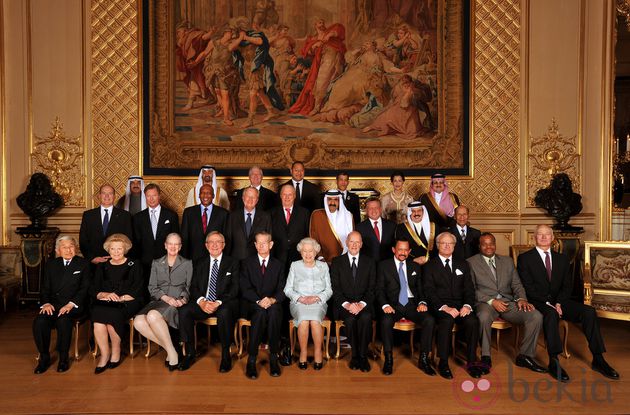 Royals from around the world gathered in London today to celebrate Queen Elizabeth's Diamond Jubilee. The lunch hosted by the Queen in Windsor Castle was the largest gathering of Monarchs for many years. In all, 22 Sovereigns were present, including one Emperor, three Queens Regnant, nine Kings Regnant, three reigning Princes, one reigning Grand Duke, one Sultan, one Sheikh, and several former Monarchs.
The Queen and Prince Philip personally greeted each guest. It quickly transpired that while the event was quite official in nature, the relations between royals were highly informal. Most royals greeted Queen Elizabeth with a warm embrace and kiss, in addition to the mandatory handshake. Before the lunch, the Heads of States and their representatives sat for a historic group photograph. The general mood was quite light-hearted; the Sultan of Brunei and the King of Bahrain couldn't stop giggling, while Queen Elizabeth jokingly asking the photographer taking the picture: "Are you supposed to be enjoying this?"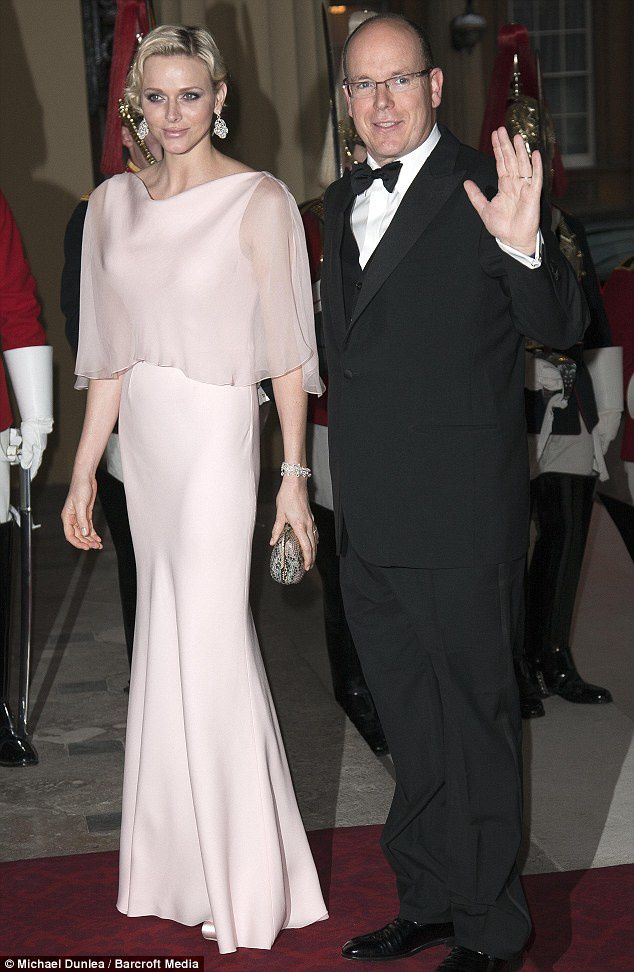 Afterwards, the royal guests were seated at round tabled seating twelve: each table included at least one Sovereign and Consort, a member of the British Royal Family, and a member of the royal household. The lunch was based on a British-inspired menu with many ingredients sourced locally. The starter consisted of a tartlet of poached egg with English asparagus. It was followed by the main course – new season Windsor Lamb with braised potatoes, artichokes, peas, carrots, broad beans, cabbage, and a tomato and basil salad. Last served was the delicious dessert – Kent strawberries, vanilla Charlotte, dessert fruit and cheese.
The British Royal Family were out in force to support Queen Elizabeth and Prince Philip; in total, twelve members of the royal family – including the Duke and Duchess of Cambridge, Prince Harry, the Duke of York, Princesses Beatrice and Eugenie, the Earl and Countess of Wessex, Princess Alexandra, and the Duke of Gloucester – were present to make sure no royal guests is left without attention.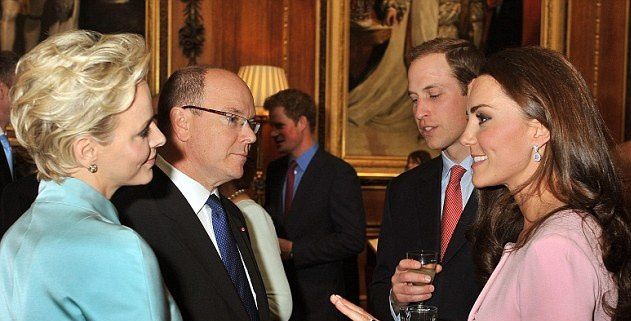 Among the guests were Emperor Akihito and Empress Michiko of Japan, Queen Beatrix of the Netherlands, Queen Margrethe and Prince Henrik of Denmark, King Carl XVI Gustaf and Queen Silvia of Sweden, King Albert II and Queen Paola of the Belgians, King Harald V and Queen Sonja of Norway, Prince Albert II and Princess Charlene of Monaco, Prince Hans Adam II of Liechtenstein, Grand Duke Henri and Grand Duchess Maria Teresa of Luxembourg, King Abdullah and Queen Rania of Jordan, King Mswati III and Inkhosikati LaMbikiza of Swaziland, Sultan Hassanal Bolkiah of Brunei, King Letsie III and Queen 'Masenate Mohato Seeiso of Lesotho, King Tupou of Tonga, King Hamad ibn Isa Al Khalif of Bahrain, Emir Hamad bin Khalifa Al Thani and Sheikha Mozah of Qatar, King Abdul Halim of Malaysia, Former King Constantine and Queen Anne Maria of the Hellenes, Former King Michael and Crown Princess Margareta of Romania, Former King Simeon and Queen Margarita of Bulgaria, Crown Prince Alexander II and Crown Princess Katherine of Serbia, Mohammed Al-Jaber Al-Sabah of Kuwait, Princess Lalla Meryem of Morocco, Crown Prince Vajiralongkorn of Thailand, Crown Prince Mohammed bin Zayed al Nahyan of Abu Dhabi, and Prince Mohammed bin Nawaf bin Abdulaziz Al Saud of Saudi Arabia.
When first released, the guest list had caused some controversy; the Queen's decision to invite members of the Bahraini royal family was controversial, given the political situation in the country. The presence of King Mswati III of Swaziland and one of his wives likewise attracted criticism because of human rights issues. The royal gathering also featured unprecedented security measures, with motorcades containing Sovereigns heavily guarded by police presence.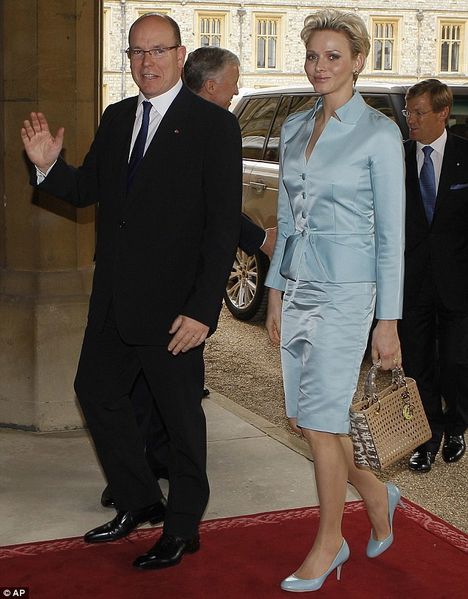 The lunch was followed by an evening banquet, hosted by the Prince of Wales and the Duchess of Cornwall. Ever the gracious hosts, Prince Charles and Camilla personally greeted every guest. The Duchess, wearing a blue lace Bruce Oldfield gown, curtsied to all Monarchs, as protocol dictates. However, the overall mood was quite informal; King Harald and Queen Sonja of Norway, who themselves hosted the Prince of Wales and the Duchess of Cornwall during their recent Scandinavia tour, were greeted especially warmly, with Camilla kissing both on the cheeks. King Harald, upon seeing the couple, exclaimed: "I'm delighted to see you again".
As during the luncheon, members of the British Royal Family were out in force to support the hosts; among the attendees were the Duke of York, the Earl and Countess of Wessex, Princess Alexandra, the Duke and Duchess of Gloucester, the Duke of Kent, and the Prince and Princess Michael of Kent.
After all guests arrived, the royal party proceeded to the Blue Drawing Room of the Buckingham Palace for a little canapé reception, and a chance to chat informally. Soon afterwards, they moved to the State Dining Room where five tables were set for the guests. Each table was headed by a British royal to make sure guests remained entertained. The elaborate dinner that followed included sea bass with Duchy of Cornwall vegetables, rhubarb Eton mess, and cheese soufflé.
===================================================
LL.A.S. IL PRINCIPE ALBERTO II E LA PRINCIPESSA CHARLENE AL PRANZO E CENA GIUBILEO DELLA REGINA ELISABETTA.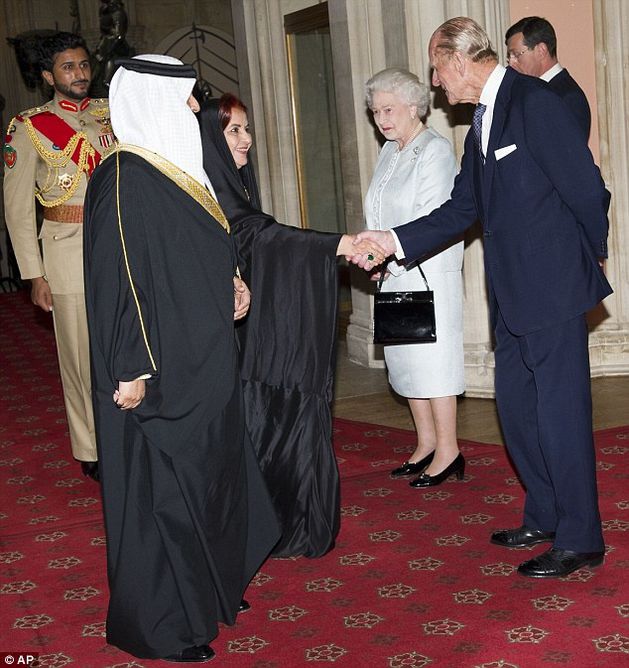 Polite: The Duke of Edinburgh greets Bahrain's King and his wife after the Queen has done her duty
"Royals" provenienti da tutto il mondo si sono riuniti il 18 e 19 maggio a Londra per celebrare il Diamond Jubilee della Regina Elisabetta.
Il pranzo offerto dalla Regina nel Castello di Windsor è stato il più grande raduno di monarchi visto da molti anni.
Ben 22 Sovrani erano presenti, tra cui un imperatore, tre Regine, nove Re, tre Principi sovranii, un Granduca, un sultano, uno sceicco, e diversi ex monarchi.
La Regina e il Principe Filippo hanno personalmente salutato ogni ospite.
È subito emerso che, mentre l'evento era sotto forma di natura molto ufficiale , le relazioni tra i reali erano, invece, molto informali.
La maggior parte dei reali ha salutato la Regina Elisabetta con un caldo abbraccio e bacio, oltre alla stretta di mano obbligatoria.
Prima del pranzo, i capi di Stato ed i loro rappresentanti si sono messi in posa seduti per una storica foto di gruppo .
L'umore generale era piuttosto allegro, il sultano del Brunei e il re del Bahrein, non riuscivano a smettere di ridacchiare, mentre la regina Elisabetta scherzosamente chiedeva al fotografo di scattare la foto: "Allora! Vi piace fare cio'?"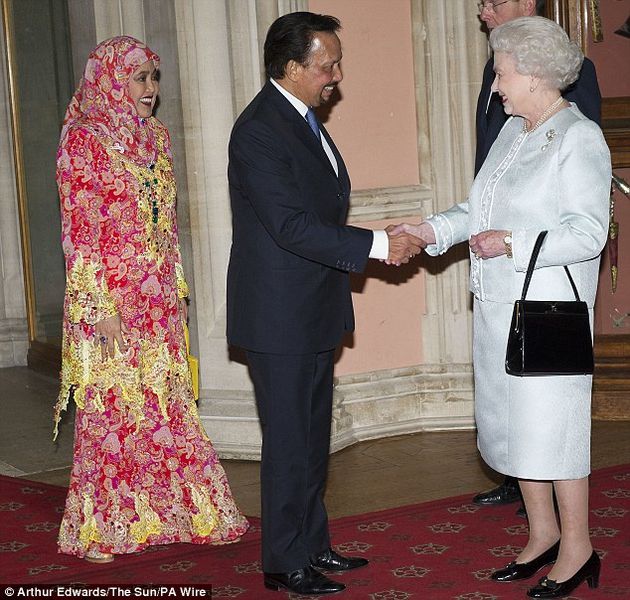 Successivamente, gli ospiti reali si sono seduti alla tavola rotonda di dodici posti : ogni tavolo comportava almeno un Sovrano ed una consorte, un membro della famiglia reale britannica, e un membro della famiglia reale.

Il pranzo era basata su una ispirazione britannica di menu con molti ingredienti di provenienza locale.

L'antipasto era costituito da un tortino di asparagi con uovo in camicia inglese.

E ' seguito la portata principale – Anelli di stagione di Windsor con patate stufate, carciofi, piselli, carote, fave, cavoli, e insalata di pomodoro e basilico.

Per ultimo è stato servito il dessert – fragole di Kent, vaniglia Charlotte, frutta, dolce e formaggio.


La famiglia reale britannica sono venuti in forza per sostenere la Regina Elisabetta e il Principe Filippo, in totale, dodici membri della famiglia reale, tra cui il Duca e la Duchessa di Cambridge, il Principe Harry, il Duca di York, Principesse Beatrice ed Eugenia, il Conte e

Contessa di Wessex, la principessa Alexandra, e il Duca di Gloucester - erano presenti per assicurarsi che alcun ospite reale fosse lasciato senza attenzione.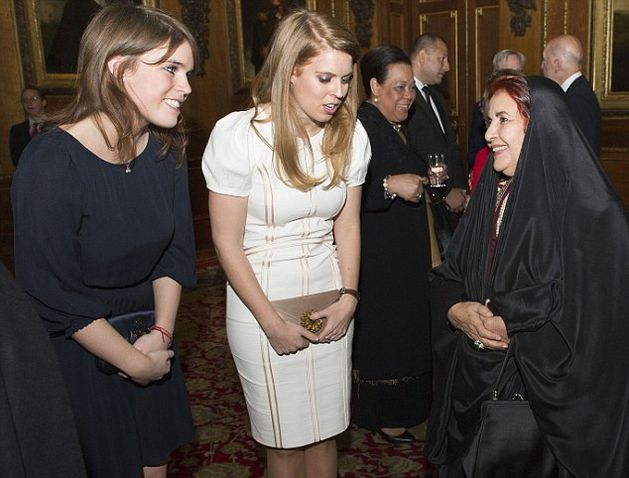 Tra gli ospiti c'erano l'imperatore Akihito e l'Imperatrice Michiko del Giappone, la Regina Beatrice d'Olanda, la regina Margrethe e il Principe Henrik di Danimarca, re Carl XVI Gustaf e la Regina Silvia di Svezia,il Re Alberto II e la Regina Paola dei Belgi, Re Harald V e Regina Sonja di Norvegia, il Principe Alberto II e la Principessa Charlene di Monaco, il Principe Hans Adam II del Liechtenstein, il Granduca Henri e la Granduchessa Maria Teresa del Lussemburgo, il Re Abdullah e la regina Rania di Giordania, il Re Mswati III e Inkhosikati LaMbikiza dello Swaziland, il Sultano Hassanal Bolkiah del Brunei, il Re Letsie III e la regina 'MaSenate Mohato Seeiso del Lesotho, il Re Tupou di Tonga, il Re Hamad ibn Isa Al Khalifa del Bahrain, l'Emiro Hamad bin Khalifa Al Thani e Sheikha Mozah del Qatar, Re Abdul Halim della Malesia, ex Re Costantino e della regina Anna Maria di Grecia,l' ex Re Michele e la Principessa Margareta di Romania, l'ex Re Simeone e la Regina Margarita di Bulgaria, il Principe ereditario Alessandro II e la principessa Caterina di Serbia, Mohammed Al-Jaber Al-Sabah del Kuwait, la Principessa del Marocco Lalla Meryem, Vajiralongkorn Principe ereditario della Thailandia, il Principe ereditario Mohammed bin Zayed al Nahyan di Abu Dhabi, e il Principe Mohammed bin Nawaf bin Abdulaziz Al Saud dell'Arabia Saudita.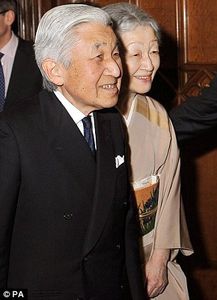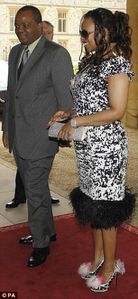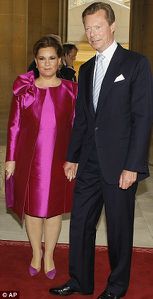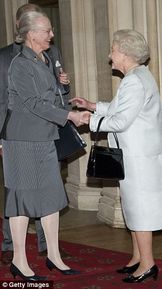 Un volta rilasciata, la lista degli invitati aveva provocato qualche polemica per la decisione della Regina di invitare i membri della famiglia reale del Bahrein data la situazione politica nel paese.
La presenza del re Mswati III dello Swaziland e una delle sue mogli pure oggetto di critiche a causa della questione dei diritti umani.
L'incontro reale, inoltre è stato caratterizzato dalle misure di sicurezza senza precedenti, con i Sovrani pesantemente sorvegliati dalla presenza della polizia.

Il pranzo è stata seguito da un banchetto serale, ospitato dal Principe di Galles edalla duchessa di Cornovaglia.
Come consuetudine, i padroni di casa, il principe Carlo e Camilla, hanno salutato personalmente tutti gli ospiti.
La duchessa, che indossava un abito di pizzo blu, Bruce Oldfield, inchino a tutti i monarchi, come impone il protocollo.
Tuttavia, l'umore generale era piuttosto informale: Re Harald e la Regina Sonja di Norvegia, che ha ospitato il Principe di Galles e la Duchessa di Cornovaglia durante il loro recente tour in Scandinavia, sono stati accolti calorosamente, in particolare, con Camilla baciandosi sulle guance.
Re Harald, vedendo la coppia, esclamò: "Sono felice di rivedervi".

Come ià durante il pranzo, i membri della famiglia reale britannica erano ancora là per sostenere i padroni di casa: tra i partecipanti c'erano il Duca di York, il Conte e la Contessa di Wessex, la Principessa Alexandra, il Duca e la Duchessa di Gloucester, il Duca di Kent
, e il Principe e la Principessa Michael del Kent.