27 janvier 2013
7
27
/

01
/

janvier
/

2013
07:43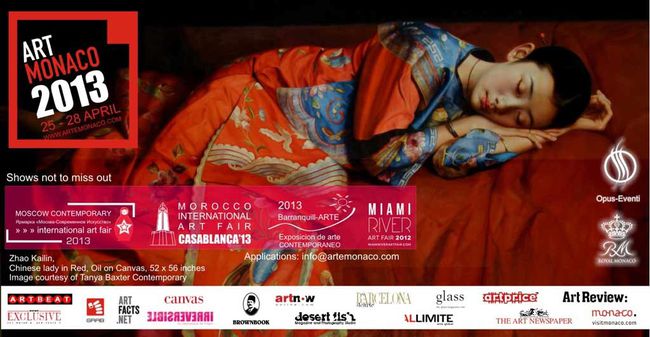 Le mythique groupe ska anglais MADNESS a donné une conférence de presse exceptionnelle au Midem, samedi 26 janvier à 17h30, au Blue Lounge du Palais des Festivals, à Cannes.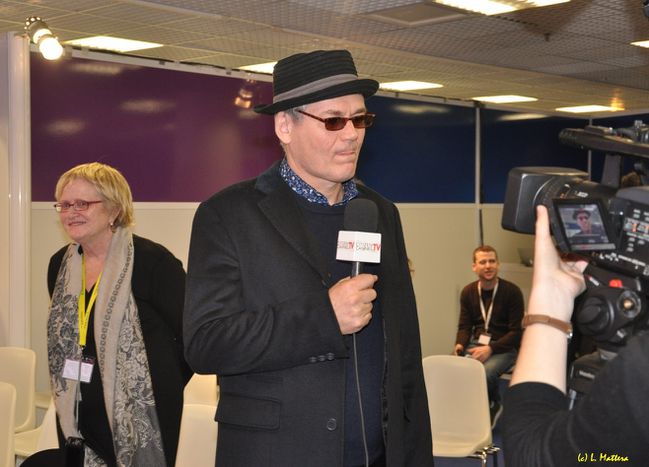 Mondialement connu grâce à des tubes comme "One step Beyond" ou "Our House", MADNESS a récemment chanté, en loyal sujet de la couronne, pour le jubilé de diamant de la Reine d'Angleterre, ainsi qu'à la cérémonie de clôture des Jeux Olympiques de Londres l'été dernier. Leu nouvel album "Oui Oui Si Si Ja Ja Da Da" est sorti en novembre dernier.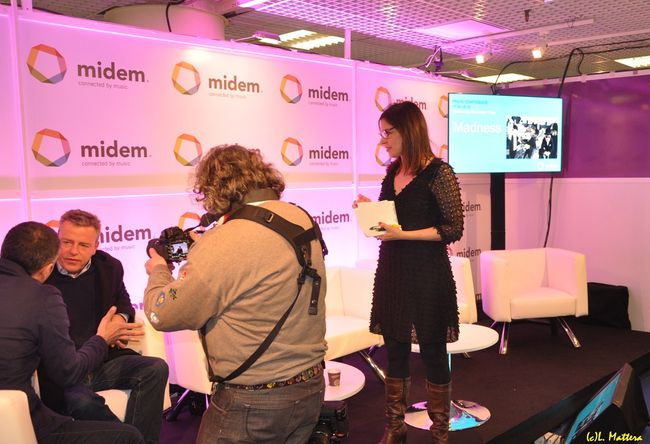 MUSIC AND MADNESS
MEET AT MIDEM 2013

Midem confirms
international standing


Cannes,

27-

29 January 201

3

– The international music community, from over 70 countries, came together in Cannes for four days of intense networking, deal-making, learning and concerts at Midem 2013.

For the core music industry attending Midem, one of the key discussion points from collecting agencies including France's SACEM and Germany's GEMA, to label executives such as Beggars Group founder, Martin Mills and internationally

-

renowned artist and musician Jean-Michel Jarre, was the on-going relationship between the music industry, the internet giants and ISPs. Other highlights of the event included keynote addresses from senior executives representing American Express, Samsung, Ford and Chinese classical pianist and cultural icon Lang Lang, discussions involving the music community and major brands such as MINI, Nike, Red Bull, Heineken and The Coca-Cola Company on how best to work together, the Midemlab start-ups and app developers competition,* the expanded Midem Marketing Competition** and a packed programme of Midem Festival concerts.

"Following the changes we introduced in 2012, this year we have again focused on bringing together the core music business with the key players operating in the tech field, as well as leading brands and advertising agencies and, of course, the artists who create the music that we listen to," noted Midem Director, Bruno Crolot

Commenting on the 6,400 attendance, 7% down on 2012, Crolot

sai

d, "attendance this year reflects the current difficult economic climate in certain parts of the world, continued uncertainty as the music industry reinvents its business models and a tightening of public-spending budgets which has impacted on certain national pavilions. What has been noticeable is that in some regions, where the economies are stronger, such as Asia we have seen increased activity with new national pavilions from Malaysia and Korea. In total, Midem

welcom

ed 5 new country pavilions, in addition to the numerous countries that all returned

and

which continued to attract plenty of traffic."

Once again politicians and many government officials attending Midem looked to actively support and develop their cultural industries internationally. European Commissioner for the International Market and Services, Michel Barnier, spoke at the Music For Everyone session on the digital economy. Host nation France sent two ministers down to Midem, Minister of Culture and Communication, Aur

é

lie Filippetti, who fielded local industry questions and Fleur Pellerin, Minister for Small and Medium Enterprises, Innovation and the Digital Economy was also present in support of innovative young companies. Midem's fourth largest delegation, Germany, was also accompanied by two ministers, Bernd Neumann, German

M

inister of State for Culture and the Media, and Hans-Joachim Otto, Secretary of State for the Federal Ministry of Economics and Technology. The Finnish government sent two ministers to Cannes to support the 20 companies on the Music Finland stand. Culture and Sports Minister, Paavo Arhinmaki and European Affairs and Trade Minister, Alexander Stubbs, were in town to promote the Finnish music community on the international stage and the Malaysian delegation was headed up by two government ministers, Dr. Fadhlullah Suhaimi Abdul Malek of the office of the Malaysian Prime Minister and A. Tambi,

D

eputy

S

ecretary

G

eneral at the Ministry of Information, Communications and Culture.

In a sign of the changing times for the music industry and the continued enthusiasm for major international brands to associate themselves with music, iconic MINI came to Midem to explain how its MINI United festival, which last year featured Midem Festival attendees The Ting Tings, had helped strengthen the brand's positioning. Another major name from the car industry to be present at Midem was Ford. The group's Chief Technology Officer, Paul Mascarenas, told his conference audience that just as the entertainment industry is using mobile devices to give clients access to content, so Ford is "now giving our customers the same opportunities in their vehicles."

Returning to Midem, Ogilvy Advertising's Global Brand Planner, Tara Austin, said that she was looking for music for the Dove Men+Care campaign

.

Austin said, "We've heard a number of tracks and artists this year that we know we want to work with." And Nokia too chose Midem 2013 to make its big announcement that it is launching a premium tier for its Nokia Music streaming music service.

With many start-up companies and app developers attending Midem 2013, this year's Midemlab start-ups and app developers competition was particularly fierce (see results below). China's classical pianist and cultural icon, Lang Lang, who gave an intimate recital at a Midem VIP dinner on Sunday, told his keynote audience on 'Visionary Monday' that he had been fascinated by some of the app ideas he had seen and talked about with other Midem attendees. He felt classical music could only benefit from extending its presence online. "I am very positive and open to explore new platforms…We have social media. It's much easier to access a great performance today," he said.

Following the success of last year's Midem festival, live music was brought closer to

Midem's

Palais des Festivals venue with the Magic Mirrors hall. Three nights of packed gigs saw evergreen UK band Madness take Midem by storm, as part of their whirlwind visit to France before they launch their UK tour.

France's C2C is tipped as a 'band to watch' by the industry and wowed its Midem Festival audience. The five timers winners of the DMC World DJ Championships have seen their 'On and On' album released across Europe and more recently in the United States.

The Classical music sector was high on the agenda with a brand new line-up of conferences, networking events and a Classical Embassy programme of concerts, special screenings and outstanding keynote speakers. The Classical Embassy, which saw many young international

artists

go on to sign international concert engagements, was supported by such distinguished ambassadors as opera star Christa Ludwig, violinist Patricia Kopatchinskaja and pianist Alice Sara Ott.

Looking towards 2014, the indications are that China will increase its presence at future Midems. During the 2013 event, talks were held between government-backed Chinese representatives and Midem organiser Reed MIDEM's Entertainment Division Director, J

é

r

ô

me Delhaye, on growing the China Pavilion, hosting concerts for Chinese musicians and introducing dedicated conferences and workshops on the Chinese music market. "These are preliminary discussions but I certainly got the impression that China is looking develop its national and international music presence and that will include their p

articipation

at Midem," said

Jér

ô

me Delhaye.

And China isn't the only country paying attention to Midem. Yuri Deikun, Managing Director of Russia's government-sponsored Moscow Innovation Development Centre, attending Midem on a fact-finding mission, said he would report back to Moscow that there is potential for Russia to increase its presence at Midem and bring IT specialists to Cannes.

"There is strong interest in Midem from countries that are committed to developing their music industries and that understand the importance of Midem as a platform to achieve that goal. In 2014 I think we will see growing delegations from China and Russia and I am also delighted to announce that Brazil will be the Midem 2014 Country of Honour

,

" enthused Midem Director Bruno Crolot. The initiative is brought to Midem by the Brazilian Ministry of Culture, represented by Antonio Grassi, President of FUNARTE (The National Foundation of Brazilian Arts) to promote the huge cultural wealth and diversity of Brazil.