9 juin 2012
6
09
/

06
/

juin
/

2012
21:34

ROYAL MONACO WEB MAGAZINE
IL PRIMO WEB MAGAZINE AL MONDO DI MONACO DIVENUTO CARTACEO.
UNA CONTROTENDENZA CHE FA PROSELITI.
MAI BLOG RANK 75
Nuovi 35 membri di 15 nazionalità diverse festeggiati col taglio della cravatta allo Yacht Club de Monaco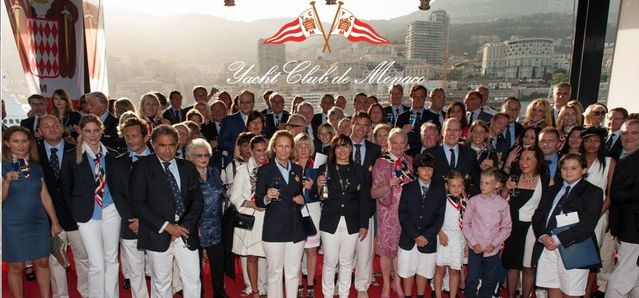 Foto (c) YCM
Con l'ammissione al prestigioso club monegasco di 35 nuovi membri introdotti al migliaio di presenti, per la prima volta sulla terrazza della mastodontica diga foranea addobbata a festa e suffragata da una vista spettacolare su tutta la superfice del Principato, S.A.S. il Principe Sovrano Alberto II, Presidente del Club, ha festeggiato anche la fine dei lavori strutturali della nuova sede dello Yacht Club de Monaco che portano la firma di Lord Norman Foster.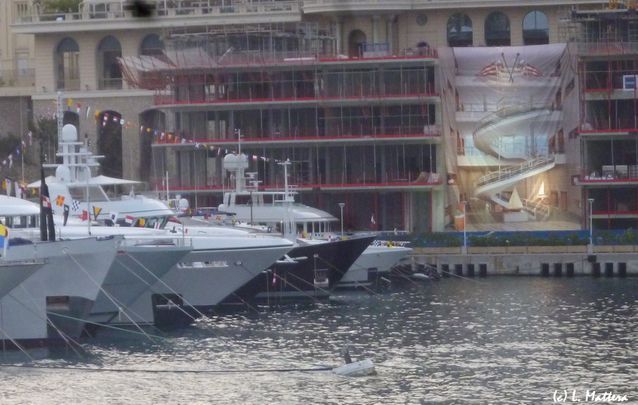 Un'ampia effige, come si noterà nella foto ripresa dalla diga, rappresentava la forma architettonica dell'ingresso della prestigios futura "Club House" che darà più visibilità dell'attuale sede divenuta, per saturazione di spazio ergonomico, inadatta alle cerimonie che si succedono durante l'anno con i numerosissimi eventi sportivi della nautica internazionale .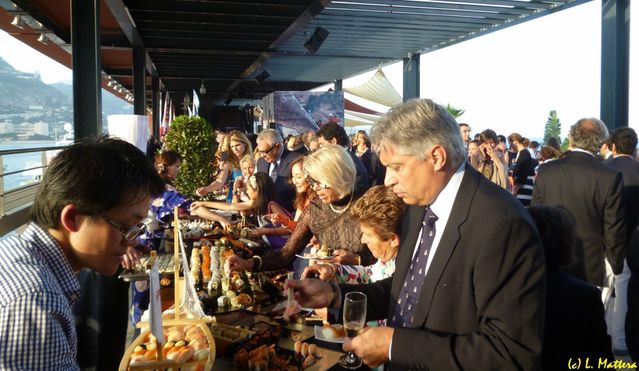 Un pomeriggio spettacolare ha incorniciato il rituale del tradizionale taglio della cravatta nel Cocktail d'Estate, con graziosi addobbi e soprattutto da leccornie gastronomiche degustate ed accompagnate da vini e champagne di eccelsa qualità, favorendo e rinnovando gli incontri tra i membri ed invitati autorevoli, favoriti da una più ampia circolazione e convivialità grazie allo spazio disponibile sui 300 mt. della diga foranea.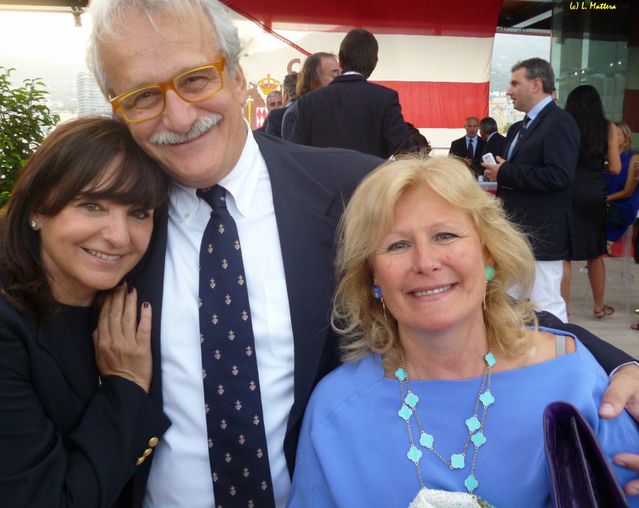 Lia Riva, a destra, in compagnia di Roberto Lauro e di una ssocia YCM.
Lia Riva Ferrarese, la manager del Riva-Monaco Boat Service, ha coadiuvato l' organizzazione senza pecche del Club, sotto la bacchetta del General Manager dello YCM, Bernard d'Alessandri, facendo percorrere le acque antistanti la facciata sud in pieno mare della diga, con spettacolari esibizioni, le Rolls Royce RIVA del mare, dall'affascinante Aquarama in mogano alle superlussuose e moderne creazioni note in tutto il mondo.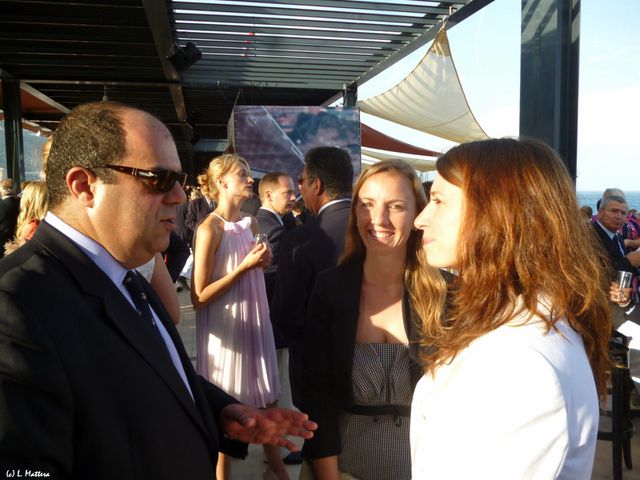 Marina Mazza, Past President JCE Monaco con Sir Stelios Haji-Ioannou, Chairman easyGroup.
Il Ministro Marie-Pierre GRAMAGLIA ha preso la parola, dopo quella del Sovrano, sottolineando la peculiarità del nuovo edificio che includerà, oltre al Club House, dei bars, ristoranti, piscina ed un parking per 150 posti auto. Vi sarà il trasferimento della scuola velistica con relative aule didattiche, vestiari ed ateliers.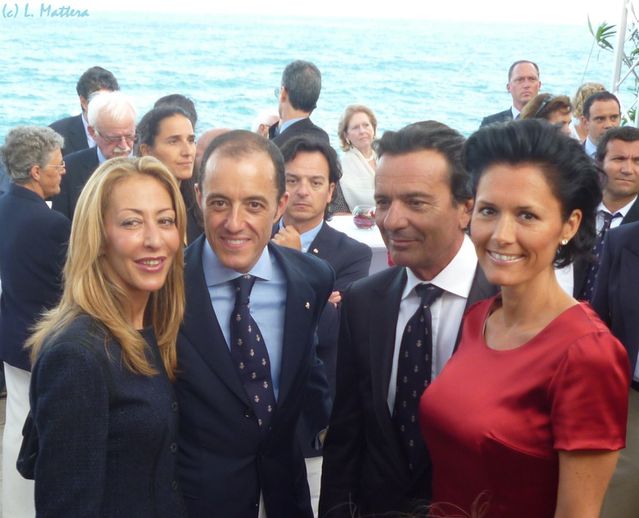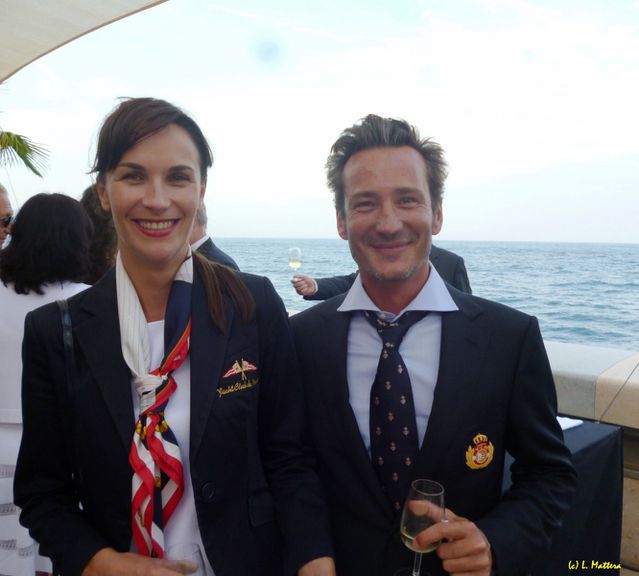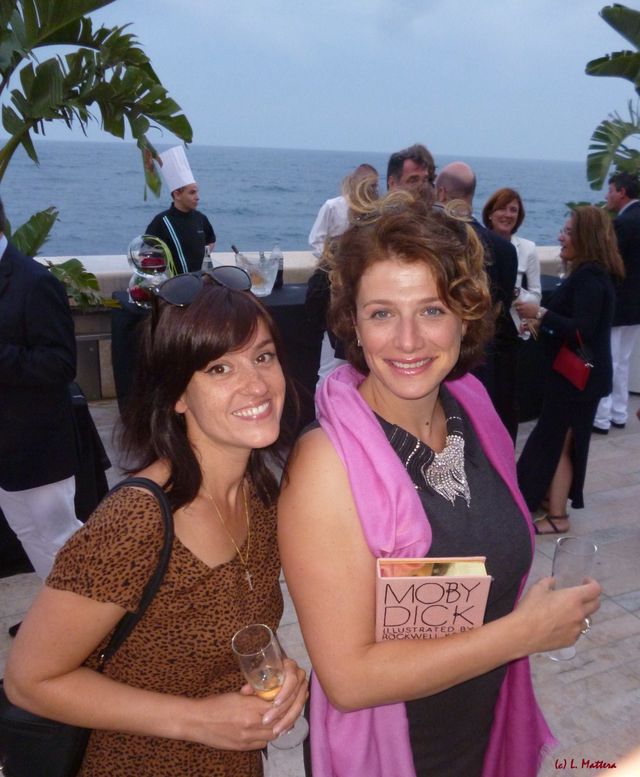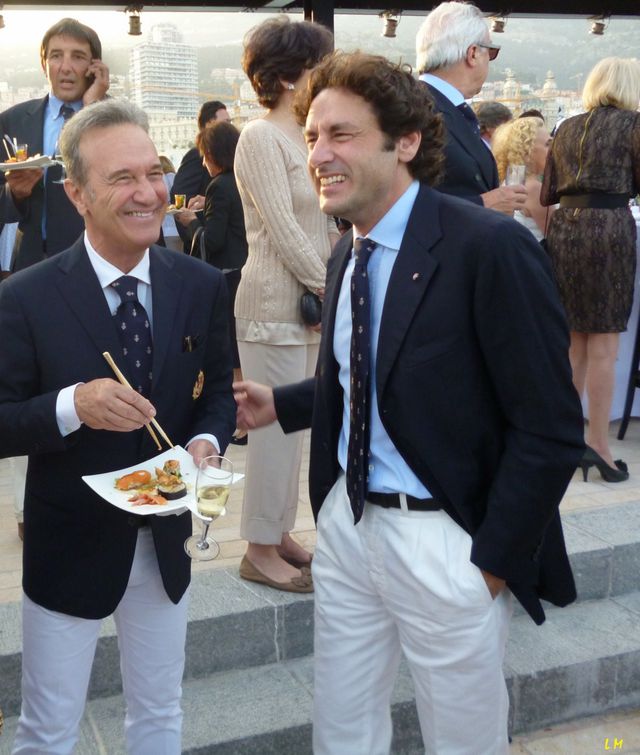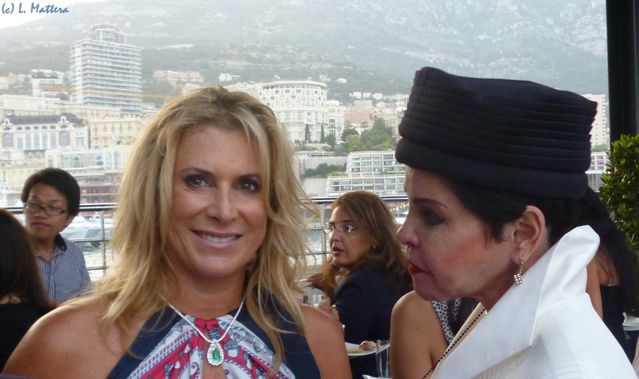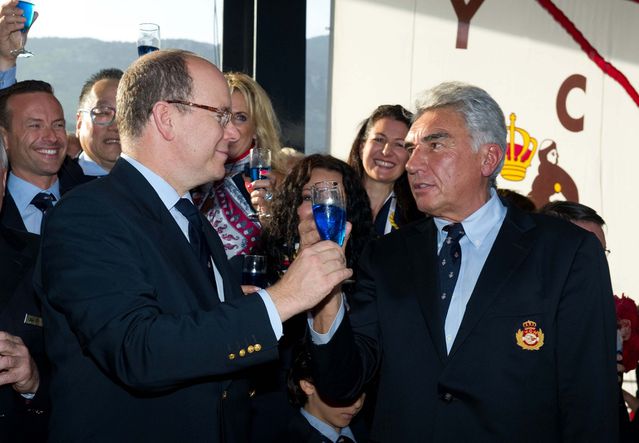 S.A.S. il Principe Sovrano Albert II con Bernard d'Alessandri, Direttore Generale dello YCM-Photo (c) Luci-Palais Princier
S.A.S. le Prince Souverain Albert II, Président du Yacht Club de Monaco a ouvert le traditionnel cocktail d'été du Y.C.M. en présence de près de 1.000 membres.
« En cette journée mondiale des Océans, si j'ai souhaité que nous nous retrouvions dans l'avant-port, face à notre nouveau bâtiment, c'est non seulement pour marquer notre attachement à la mer mais également pour affirmer ma volonté de nous doter d'un nouveau Club House, dont nous célébrons aujourd'hui la fin du gros œuvre. Ce nouvel écrin, au cœur de la Principauté, se doit également d'être au service de l'animation et de la promotion des ports de Monaco. Cet édifice bénéficie de la signature prestigieuse de Lord Norman Foster et je tiens à saluer le travail accompli par l'ensemble des services impliqués, concrétisant ainsi les efforts entrepris depuis quelques années pour le réaménagement général des infrastructures portuaires. La livraison du nouveau bâtiment constituera l'une des étapes majeures dans le remodelage de la physionomie future du port. Cette réalisation architecturale symbolise l'ambition de la Principauté de s'affirmer comme la capitale du Yachting ..Entre tradition et modernité, le Yacht Club de Monaco, qui réunit 1.200 membres représentant cinquante-six nationalités, bénéficie d'une renommée internationale. La richesse de notre Club repose avant tout sur la diversité culturelle de ses membres ainsi que sur la qualité exceptionnelle de sa flotte de navires de plaisance et de super-yachts. Je souhaite que nous développions la formation des jeunes et leur sensibilisation au monde maritime, au même titre que l'accompagnement des armateurs et leurs équipages à travers notre label « La Belle Classe ». Nombreux sont nos atouts. Préparons-nous donc dès à présent à embarquer de l'autre côté du port vers de nouveaux horizons…».
_________________
Yacht Club de Monaco looks to the future …
"This being World Oceans Day, the fact I wanted us to be here together in the outer harbour, facing our new building, is not only to show our attachment to the sea but also to confirm my desire that we should have a new Clubhouse. Today we are celebrating completion of the shell of the building. This new landmark in the heart of the Principality also has a duty and key role to play in animating and promoting both of Monaco's harbours." This was how HSH, the Sovereign Prince Albert II and President of the Yacht Club de Monaco opened the traditional YCM summer cocktail, which was attended by some 1.000 members.
As well as being a festive yet formal occasion, when 35 new members representing 15 nationalities were welcomed into the Club, the evening was an ideal opportunity to present an exclusive first report on how the new Clubhouse is progressing.
The President of the YCM continued: "The building has the prestigious signature of Sir Norman Foster behind its design, and I would like to congratulate all the services involved for the work accomplished to date, crowning the efforts made over several years towards the redevelopment of the harbour's facilities. Delivery of this new building represents one of the major milestones in the restructuring of the physiognomy of the harbour. Completion of this architectural gem symbolises the Principality's ambition to confirm its role as the capital of yachting."
Indeed the Principality of Monaco has long been a major destination for the yachting world, both as home port and favourite port of call for owners and their superyachts, as well as the headquarters of many boat designers and the big brokers. The Yacht Club de Monaco unites many of the world's most prestigious yachts under its burgee, including a quarter of those featured in the 100 biggest private yacht list, and occupies a unique position in the international luxury yachting sector. A link between all those who love the sea, the YCM's mission is to support professionalism at every level, and unite all those involved in yachting around its art de vivre la mer.
Government Minister for Facilities, the Environment and Urban Planning, Marie-Pierre Gramaglia, then presented the new building in more detail: "It will include the clubhouse, restaurants, bars, meeting rooms, a pool and a car park with around 150 spaces. It will also be home to the sailing school, with changing rooms and workshop/sail loft. The Société Nautique will also be there with its own restaurant/snack bar, cloakroom and boathouse. The construction abides by HQE (Haute Qualité Environnementale) standards, minimising noise pollution, use of energy and water, etc.
"The building's shell is almost complete. The next phases are weather-proofing, installing the masts and boom on the roof's west side, and erecting the metal structure for the atrium's monumental staircase. The glass façade will be done in the autumn and then the finishing works can begin.
Like the future new hospital, the Yacht Club is one of the major projects for our country. They illustrate the State's continued efforts to support new facilities and investments, evidence of a policy that knows how to contain its expenditure while preserving its capacity to invest in the future."
HSH Prince Albert II concluded his speech: "Between tradition and modernity, the Yacht Club de Monaco, with 1,200 members from 56 nationalities, enjoys an international reputation. The dynamic force and rich variety driving our Club lies in the cultural diversity of its members and the outstanding quality of its fleet of pleasure boats and superyachts. I very much want us to further develop our training courses for young people and to raise their awareness of the maritime world, as well as supporting owners and their crews through our "La Belle Classe" label. We have so many assets. Let us now start preparing to board our new building on the other side of the harbour and set sail for new horizons...".